Pulverizer Throat Bypass System
Are your pulverizers experiencing mill rumble at low loads or higher differential pressures than wanted? 
High Mill Differential Pressure
Primary Air Limitations
Mill Capacity Issues
Airflow Measurement & Control Issues
Mill Rumbling
Excessive Mill Liner Housing Wear
The STORM® pulverizer throat bypass is designed to reduce unneeded pressure drop, improve airflow dynamic, pulverizer efficiency, and reducing low load rumble. The design intent is to bypass airflow from the underbowl and introduce just above the throat. The bypass reduces mill differential pressure by providing a secondary path of air, introducing it to the mill above the grinding zone. By having two zones of airflow into the mill a larger total area is achieved, thus reducing mill differential pressure. 
STORM® has developed a system to accomplish this by creating a secondary annular airflow chamber inside of the mill housing. This annular chamber extends circumferentially around the internal mill housing exiting above the throat. The design is to maintain a specific airflow velocity passing through the throat and bypass the remaining airflow above the throat.
Improved sweeping of fines from table
Reduced skidding and rumbling
Lower mill differential pressure
Maximum velocities lowered
Increase Primary Air capacity through the mill by reducing pressure drop
Accurate airflow measurement
Maintain or improve fuel fineness by operating on the proper air/fuel ratio
A portion of Primary Air is taken from the PA Inlet and introduced above the rotating throat through an internal chamber.
The total primary airflow will be controlled as before, however, the control of the bypass flow will be modulated with a control damper driven from an installed logic curve just as the primary air curve. The curve demand will be derived from mill demand which will throttle air between the mill bypass and the throat. Venturis are utilized to accurately measure the throat and bypass airflows.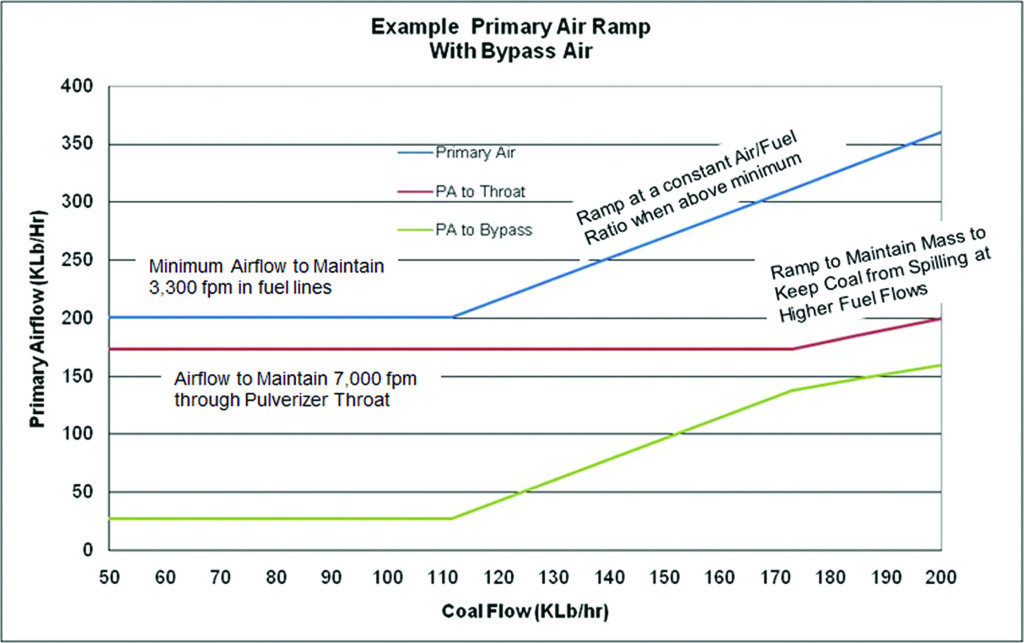 Computational Fluid Dynamics (CFD) modeling has been completed on other throat arrangements as well as STORM's throat bypass system utilizing CD-Adapco's Star CCM+ software. This CFD modeling was utilized to refine the design to assure reduction in differential pressure; airflow patterns to properly sweep fine coal from the grinding zone were achieved, improved airflow vectoring, minimize wear zones, and assure balanced airflow within the mill.