The gas conditioner is designed to provide for a clean, low moisture content gas sample to an appropriate analyzer such as the ECOM-AC. Cooling, filtration, and metering are accomplished with various components of the conditioner.
The STORM® designed gas sample conditioner cools and dries gas samples to be analyzed. The pump installed in this gas sampler significantly reduces normal sample times, and also has been proven to extend the life of portable gas analyzers such as the ECOM and Teledyne models. The cost of this durable, effective gas sample conditioner has proven to pay for itself by reducing the cost of repairs to analyzers due to overworked pumps, fuel cells, and extended sampling times.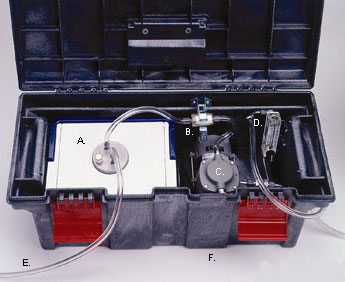 System Components:
Ice Cooled Bubbler
Air Filter
Pump
Flow Meter
Clear Flow Tubing
Carrying Case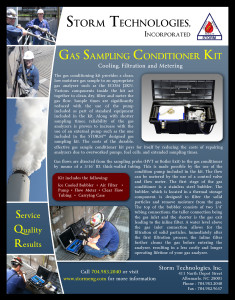 The gas to be sampled is directed to the conditioner from the sample probe by a 3/16″ ID thick-walled tubing. Smaller lengths of this tubing are used throughout to direct the gas flow. The first stage of the gas sample conditioner is to filter he solid particles and moisture from the gas in a stainless steel bubbler system, located in a thermal storage unit (ice chest). The bubbler consists of two 1/4″ tubing connections. The taller of the connections is the gas inlet and extends within the bubbler to a point near the bottom. The shorter connection is the gas outlet to the gas pump and does not extend to within the bubbler. A level of water is maintained above the gas inlet connection within the bubbler. When flow is established, this arrangement forces gases to be "bubbled" through the water.
The gas sample is then transported to and passes through an inline filter for final conditioning. The conditioner pump takes suction on the bubbler through the inline filter and discharges to the analyzer by a combination flow meter/control valve arrangement.