In-Situ Flyash Sample Kit
How do you determine the carbon content of the flyash?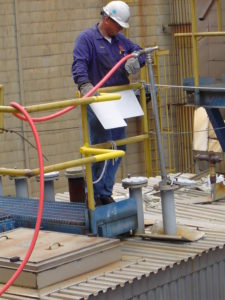 A flyash sampler provides the means to draw representative in-flight ash samples from the flue gas. STORM fabricates two types of samplers, one is an In-Situ Flyash Sampler which is a "near isokinetic" sampler, and the other is an Isokinetic Sampler. We recommend the In-Situ Flyash Sampler for boiler testing/tuning and routine flyash sampling testing, since one person can easily perform this test. In-flight flyash sampling is generally done in conjunction with boiler testing/tuning so that the effects of the tuning can be quantified. This provides a more representative sample, most plants standard hopper samples due to the fact the the ash being sampled is from the fuel being fired at that moment and is not ash that settled in the hoppers hours before the boiler was operating under the test conditions.
In general, the lower the LOI (Unburned Carbon) the better combustion efficiency which results in less "wasted" fuel. Flyash sampling utilizing STORM's insitu flyash sampler is primarily done at the air heater outlet, after the flue gas temperatures have decreased significantly, making the probe easier to handle and allowing the use of a more durable low temperature filter paper.  Flyash sampling can also be conducted upstream of the air heater, however high temperature filter paper is required, and the aluminum probe body may need to be changed to stainless steel
Kit Includes:
Sample Canister
Perforated Cylinder
Aspirator
Nozzle Tip
Support Clamp
Probe Body, Aluminum, (10′ unless otherwise specified)
Filter Paper (50 Sheets) 
Note: Items in these kits can be purchased separately.