Isokinetic Flyash Sampling Kit
How can you evaluate flyash distribution between your different flue gas ducts?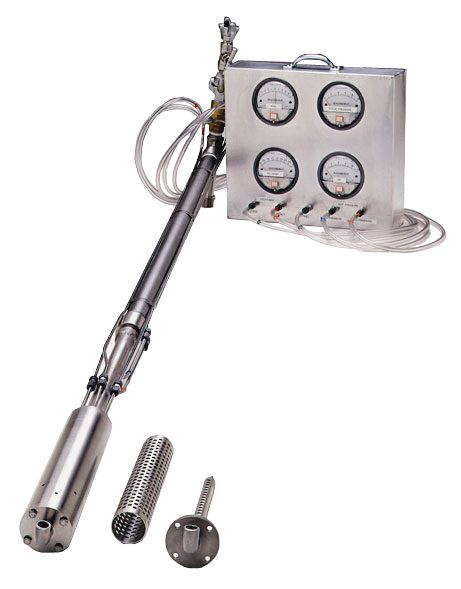 A flyash sampler provides the means to draw ash samples from the flue gas. STORM fabricates two types of samplers, one is an In-Situ Flyash Sampler which is a "near isokinetic" sampler, and the other is an Isokinetic Sampler. Although we recommend the In-Situ Flyash Sampler for boiler tuning and periodic testing, sometimes an Isokinetic Flyash Sampler is required. This equipment is generally utilized for ASME PTC 4.0 boiler efficiency tests.
STORM utilizes Isokinetic flyash sampling to quantify a relative mass flowrate of the flyash at various locations in the back pass and for the extraction of a more representative samples for analysis. This probe uses a three-hole "Fecheimer" head to measure velocity pressure and an "in-line" calibrated square-edged orifice to maintain the required sampling velocities based off the real time flow measurement during testing. Performing flyash sampling isokinetically requires the velocity head at each point to be measured so the sample is pulled at an identical rate. Both the velocity and flyash sample are collected, simultaneously. This also allows the test team to determine the direction of flow streams so that the sample tip is pointed into the flow during the sample traverse.
Kit Includes:
Sample Canister
Perforated Cylinder
Aspirator
Nozzle Tip
Flow Monitor Tubing
Aluminum Probe Body  (Normally 10ft)
Filter Paper (50 Sheets, not shown)
Magnehelic Gauge Panel
Flexible Tubing
Note: Items in these kits can be purchased separately