How can you accurately determine the airflow's and velocities in a turbulent duct?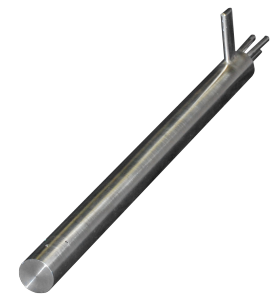 The Fecheimer can be used to determine the amount of airflow and velocities in a duct that has turbulent airflow such as testing at a fan inlet or outlet. The Fecheimer probe is a three-hole probe with one impact hole and two static holes to enable the probe to be null balanced and record the angle of flow to correct the velocity head. Either the Fecheimer or the Forward/Reverse Pitot tube would be sufficient depending on the purpose and the location of the testing being performed. The following are some typical locations of airflow measurement by either the Forward/Reverse Pitot tube or the Fecheimer probe: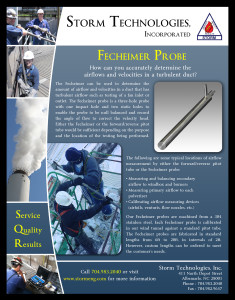 Measuring and balancing secondary airflow to wind box and burners
Measuring primary airflow to each pulverizer
Calibrating airflow measuring devices (airfoils, venturis, flow nozzles, etc.)
ID and FD fan testing where to velocity vector angles are needed
Our Fecheimer Probe is machined from a 304 Stainless Steel billet. This machined billet head is then tig welded, and leak tested before shipping. Each Fecheimer probe is calibrated in our wind tunnel against a standard pitot tube, and has a "K" factor of approximately 1.00. The Fecheimer Probes are fabricated in standard lengths from 6′ to 14′, in intervals of 2′. However custom lengths can be ordered to meet the customers needs.

Fecheimer Probe Test Location