How do you determine the actual flue gas constituents?
The High Velocity Thermocouple (HVT) Kit comes with everything you need to properly characterize the levels of flue gases and temperatures throughout your boiler. Once a complete traverse of the furnace has been completed, plots of the data can be generated to determine if and where there is a problem with air in-leakage, secondary airflow or side-to-side fuel in-balance in the furnace.
Our probes have an integrated sampling tube that allows for an analyzer to draw a gas sample from the furnace (O2, CO, NOx – depending on the analyzer). A water-cooled jacket protects and cools the probe, while quick "Chicago" style fittings allow for fast and easy attachment of air and water to standard industrial connections.
Kit Contents:
HVT Probe
Storm Gas Sample Conditioner
Digital Thermometer
ECOM Flue Gas Analyzer (Measures O2, CO, NOx)
Aspirator
Clear Flow Tubing
Lead Wire
"Chicago" Style Fittings
Radiation Shield for Probe Tip (not shown)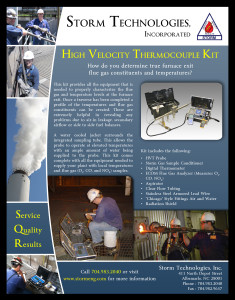 Note: Items in these kits can be purchased separately.
HVT Probe accessories can be sold separately or as a complete package, depending on your needs. The probes come in standard lengths of 12′ and 20′, but can be fabricated to any length up to 20′.
High Velocity Thermocouple Kit Test Location