Our Engineering and Fabrication department is comprised of engineers, designers and draftsmen with decades of combined experience. The STORM® forte is to combine the experience of senior engineers with the youthful energy and exuberance of recent graduate engineers, designers and field technical service personnel in order to provide the unique advantage of years of experience while remaining technologically current.
Our team is accustomed to taking a project from a concept to an engineered solution in a timely and accurate manner in order to meet our customers stringent schedule needs. Each customized project is directed towards STORM®'s primary intention of being customer and RESULTS driven. Our emphasis is on applying the fundamentals with regard to combustion and steam power systems by applying the "Thirteen Essentials for Optimum Combustion with Low NOx Burners" to address both performance (LOI, Heat-Rate, Spray flows, Slagging, etc…) and NOx emission levels.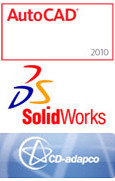 Storm Technologies, Inc. strives for continuous improvement and to utilize the latest technology in CAD Design Software (i.e. SolidWorks®, COSMOS® Designer FEA Analysis and AutoCAD). Our experienced team is capable of meeting and exceeding all of our customers needs with 100% Service, Quality and Results. After creating a concept and design of each specialized component, our fabrication and quality control efforts provide fast, reliable, and quality work for each specialized project.
Below are some of STORM's performance parts that we have fabricated for our customers.


Since our beginning we have designed, fabricated, technically directed, and field calibrated numerous successful projects. These include; numerous airflow measurement devices, coal pulverizer performance kits (classifiers, rotating throats and complete static centrifugal classifiers), chordal thermocouples, and Fan Boosted Over-fire Air Systems. These as well as complete combustion systems have been successfully completed with field technical direction and involvement by Storm Technologies, Inc.